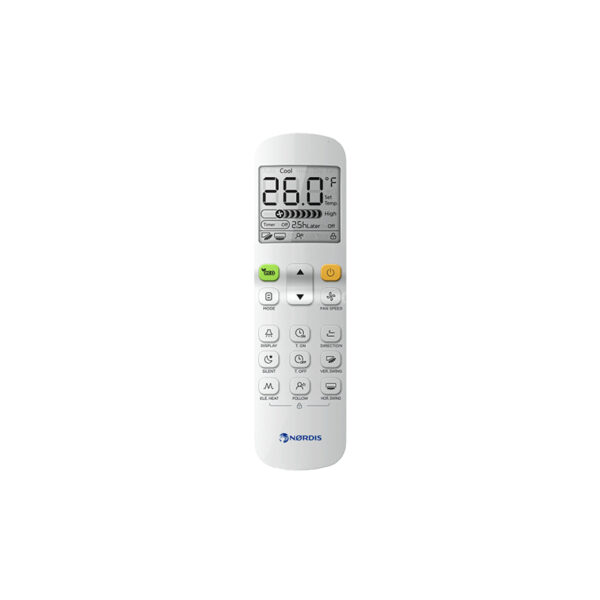 NFC-V300-2-2P
NFC-V400-2-2P
NFC-V500-2-2P
NFC-V600R-2-2P
NFC-V750R-2-2P
NFC-V850R-2-2P
NFC-V950R-2-2P
NFC-V1200R-2-2P
NFC-V1500R-3-2P
NFC 4-way Cassette
NØRDIS cassette fan convectors are advanced units designed for optimal performance, low noise level maintenance, and flexibility in installation and management. The innovative brushless inverter fan motor not only ensures maximum comfort but also guarantees economical operation. Compared to traditional motors, it is extremely efficient, resulting in a reduction of electricity consumption by up to 75%.
Due to the convenient design, the devices are easy to install and maintain.
Elevate aesthetics and functionality with a sleek 360° panel featuring wide airflow outlets.
Seamlessly integrate the compact design into any space for hassle-free installation. The device's petite build is ideal for low ceiling setups.
Harness the prowess of the DC brushless fan motor, ensuring remarkable efficiency and silent operation:

Energy saving: electricity consumption is reduced up to 70%.
Greater efficiency.
Greater comfort: lower temperature and relative humidity fluctuations in the room.
Extremely quiet operation.
Less wear and tear and more reliability.
Longer engine life.

Standard built-in drain pump with 750 mm pump head for normal size and 500 mm for compact size.
Introducing fresh air into the premises, the device enhances indoor air quality for a truly invigorating environment.
Extended drainage pan for better ceiling protection is optional.